When in doubt...make a list.  When you're in the end of August, and many are completey rearing their head towards pennant races and the start of football season, just make a damn list - and you might get some attention. 
There's a ton of great college towns in America. We all know them, and we all have spent 4+ years there or maybe a wild weekend in a blur of inebriation. Please, we aren't asking for your stories. 
But there's also some major markets in this country that can claim the name as a "College City," where fans ignore their crappy professional teams and fuel the talk radio waves with (basketball) recruiting buzz, conference titles, and a deep run in March.
After the jump are our Five Top College Basketball Metropolitan Areas.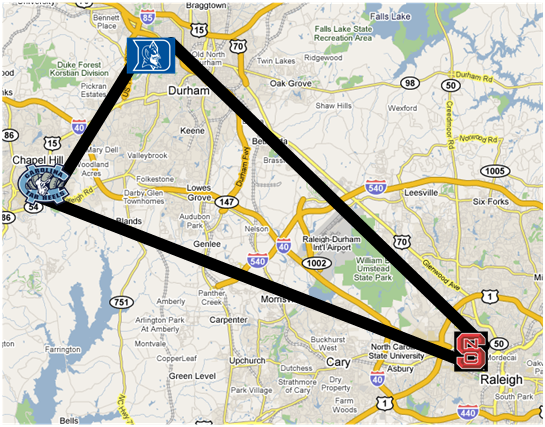 1- Raleigh-Durham-Chapel Hill, North Carolina
The area of Raleigh-Durham-Chapel Hill receives its number one ranking almost strictly because of two teams: Duke and UNC. No surprise there. The bad blood between these two schools has solidified itself as one of the best rivalries in all of sports, and for good reason.  Ask Dick Vitale about this 8 mile war path that separates the two schools and you will receive a bevy of adjectives (mostly made up words) more fit for a NC-17 movie.  Both schools are perennial national championship contenders and have produced 17 National Player of the Year honors, appeared in 21 Final Fours and hold eight National Championship Trophies. 
While being in the top 10 all season is expected for both these programs, their rankings are completely irrelevant when they hit the hardwood (well at least Blue Devil fans have been holding on to that statement lately).  It's Duke and UNC and that's really all that matters.
Success from both sides has generated a lot of verbal shots between their students and fans.  While Blue Devil undergrads will tell you that the only trace of intelligent life in Chapel Hill is a sign directing you to Duke's campus, Tar Heel students have made a hobby of explicitly voicing their opinions on Duke's top players and their unfavorable sexual preference...and lack of African-American talent.
Completing "The Triangle" is North Carolina State.  Located just east of Duke and UNC in Raleigh, NC State is a nationally recognized program and always competitive in the ACC.
2- Philadelphia
In addition to boasting four major professional sports teams, The City of Brotherly Love is also home to a one of a kind  tradition in college basketball.  The Big 5, comprised of La Salle, Saint Joseph's, Temple, Pennsylvania and Villanova are all located within a 17 mile radius of each other, and many of the games are played at the historic Palestra located on Penn's campus.
The Big 5 was formed in 1955 and games were played as double or tripleheaders.  As schools began to join conferences, conflicts with scheduling arose and it became more difficult to allow all the schools to play each other. By 1991 the format was non-existent, but eight years later the series was back, much to the delight of the fans. 
The most notable rivalry within the Big 5 is between St. Joes and Villanova.  Dubbed the Holy War for the schools religious affiliations, the game is sort of an inferior vs. superior match-up.  St. Joseph's is a smaller school who would love to shake the mid-major label, while 'Nova is in the Big East...and frankly a notch higher on the academic hierarchy.
3- Cincinnati
At first you may question the credibility of this mid-sized Midwestern city, the setting to the now infamous Karen Sypher abortion, as a college hoops hot bed, but consider this:  In addition to being the location for the University of Cincinnati and Xavier, two schools separated by just a few unsafe neighborhoods, the city is within 100 miles of Dayton, Indiana, Kentucky, Louisville, Miami of Ohio and Ohio State.  UK plays at least one game a season in Cincy, Andy Kennedy causes trouble in Cincy, and many grads from the nearby universities land jobs here creating a brew pot of bad blood.
The rivalry between XU and UC may not get enough national attention as it deserves.  While UC, a public school, has had more success in the past 20 years with 14 straight NCAA Tournament appearances from 1992-2005, the Musketeers have won nine of the last 13 meetings.  Some say that the rivalry has lost some of its luster with the departure of Bobby Huggins coupled with Xavier's inability to retain a head coach, but true fans in Cincinnati know that the local media hype and hostility between the two sides will continue to exist regardless.
4- Louisville, Kentucky

You can't exclude the Bluegrass state in a ranking like this, so by default Louisville gets the nod. Undoubtedly this will be on of the most anticipated seasons on record for Cardinal and Wildcat fans.  From a summer filled with John Calipari and John Wall, Rick Pitino and Karen Sypher, the tides have quickly turned and it may be the school in Lexington with the upper hand as it's grads continue to flock roughly 100 miles to work and start fights with their rival during the weekends.
5- Washington, D.C.-Baltimore
While the top four metropolitan rankings have been predicated on rivalries, the DC-Baltimore area simply boasts a good amount of quality college basketball.  Maryland is a perennial powerhouse in the ACC, has won a National Championship in 2002, and have rabid fans that are still probably chanting derogatory comments about JJ Redick's sister.  It is also rumored that much of the Chesapeake River water flow begins at Gary Williams post game laundry basket.
Georgetown, one of the more successful teams in the 1980s and 1990s under John Thompson, has re-established themselves in the Big East under his son John Thompson III. 
The area is also home to mildly successful George Washington, one-hit wonder George Mason, American University, Coppin St, Howard, Loyola College, Morgan St, Towson St and UMBC.
It is also worth mentioning that Prince George's County is an absloute hot bed for producing major Division I, and in turn NBA, talent